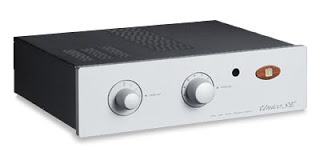 We offer mods for both the Unico & Unico SE as seen below. The stock Unico SE  received a super review in Stereophile. Sam Tellig felt that he would make it his "Product of the Year".
The Unico Integrated amp has received worldwide acclaim as a superb value. It is a wonderful 80-watt hybrid integrated amp. It was "Product of the Year" in various magazines including Stereophile. Our modified version has received superb reviews. The review on the modified Unico can be read here. The Unico SE was available for audiophiles wanting more power. It is a 140wpc amp that sounds a little better than the standard Unico. Our Level-2 mod takes this hi-value amp and makes it dramatically better.

Unico SE Level-2 mod [$1,490 + frt. retrofit] - read review of it here:
Replace the stock preamp tubes with two premium mil-spec Mullard CV4003s (12AU7s). These are 10.000 hour ultra low noise tubes with ultra low microphonics

2 x MultiCap PPFXS polypropylene film and tin-foil interstage coupling capacitors

2 x 1uf Auricap metalized polypropylene preamp input coupling capacitors

24 x Japanese Riken ½ and 1-watt signal path carbon resistors with gold-plated leads

8 x Vishay-Telefunken SF4007 ultra-fast soft recovery diodes to rebuild 2 existing bridge rectifiers + 2 x IR Hexfred diodes

6 x upgraded power supply electrolytic capacitors are added to the base unit

2 x Burr-Brown OPA627 op amp-based PCB assemblies for amp driver stage

2 feet of DH Labs "Revelation series" pure 99.999% silver solid core input signal wire with Teflon tape-wrap dielectric

2 premium Vampire "direct gold-plated over copper body" RCA female input jacks

4 x WBT 0763 single output speaker binding posts

3 sheets of SoundCoat chassis damping material cut & applied where applicable

4 EAR large Sorbothane isolation feet

TRT WonderSolder used throughout

8 hours labor

Unico Level-2 mod - $1,290 + freight to your Unico: We now offer a dramatic upgrade to the Unico Integrated amp. The Unico received rave reviews as a killer $1800 integrated amp. It was Sam Tellig's Stereophile Product of the Year, 6moons' Product of the Year 2002 and received a very complimentary review from Ken Kessler. When we sold them the stock Unico was a $1500-1800 state-of-the-art example of a hybrid design for under $2000 retail.

The first review was by Paul Candy of 6moons and came to the following conclusion: "I will honestly confess that I've never yet cranked an amp to levels as uninhibited as the Level-2 Unico without being troubled by distortion. The amp was so clean and controlled that listener fatigue never became an issue. This was quite an incredible experience! The Level-2 had no difficulty with any musical genre or volume I chose to throw at it. It became child's play to identify the slightest system change effects such as a cable or support footer substitution. Not only was this a great analytical tool, it was a thoroughly involving, musical piece of kit with terrific immediacy and presence. Frankly, given the mere $400 cost difference, I was completely taken aback by the superiority of the Level-2 over the Level-1. I can only guess at the differences compared to the stocker. If I were contemplating upgrading an existing model or purchasing a modded unit, I'd spring for the Level-2. At only $2,295, Walter and Chris believe the Level-2 Unico bests the likes of the BAT or Mark Levinson integrated amps. I suspect a great deal of the noted sonic differences were due to the substitution of the stock opamps in the amplifier driver stage since greater resolution and high-frequency extension are two of the claimed characteristics of Burr-Brown's OPA-627... If you haven't the shekels, beg, borrow or steal the green. Ultimately, the Level-2 Unico should be compared to $4000-$5000 integrated amplifiers. I cannot conceive of anyone not completely satisfied with it. It's definitely one of the best-sounding amplifiers in its price range I've heard this past year. If I were a professional racecar driver, I'd sure want Walter and Chris on my team. It'd convey the peace of mind knowing that they'd wring every last drop of possible performance from my car..."

This modification installs the following:
Three sheets of SoundCoat chassis damping material to the inner chassis

2 premium mil-spec, ultra low noise/microphony Mullard CV4003/12AU7 designed for 10,000 operation

Two Multicap PPFXS polypropylene film and tin foil inter-stage coupling capacitors

Two 1uf Auricap metalized polypropylene preamp input coupling capacitors

Twenty Japanese Riken 0.5- and 1-watt signal path carbon resistors with gold-plated leads

Two feet of DH Labs Revelation Series pure 99.999% silver solid-core input signal wire with Teflon tape-wrap dielectric

One pair of premium Vampire direct gold-over-copper-plated RCA female jacks

Four WBT 0763 single output binding posts

Eight Vishay-Telefunken SF4007 ultra-fast soft recovery diodes to rebuild two existing bridge rectifiers

Six High quality electrolytic capacitors to the power supply

Two custom-made Burr-Brown OPA-627 opamp-based PCBs to dramatically upgrade the amp driver stage

Four large EAR Sorbothane isolation feet to further dampen the chassis

TRT Wonder Solder used throughout

A total of 7.5 hours labor

Sonic improvements with the Level-2 are: The Level-2 is like a shot of adrenaline. It makes this high value amp into a true category killer. Transparency is improved over the stock unit. You get a cleaner look into the musical soundstage. Dynamics are dramatically improved as though the amp gained more power. The stock unit is rated at 80 watts but doesn't dynamically excel compared to more powerful and expensive competitors. The stock unit's real forte is its beautiful midrange performance. The Level-2 adds major dynamics and much better pace, playing much louder on peaks and adding excitement to the music. If the stock unit is 80 watts, the Level-2 mod seems to increase power to at least 120 watts. The amp is quieter, with blacker backgrounds, to resolve more low-level detail and render ambience more three-dimensional. Bass response is significantly upgraded in both extension and mid-bass slam. Treble detail both micro and macro is demonstrably better to now keep up with anything we've heard under $5k.