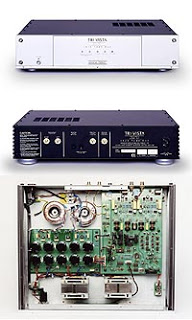 Trivista 21 Level-2 mod - $1190 + freight retro-fit to your DAC

This modification installs the following:
6 x Burr-Brown OPA627 op amps (world's best for audio) assemblies for the I-V conversion, analog filter and output buffer positions
6 x upgraded power supplies caps and Telefunken high speed diodes
4 x upgraded coupling caps with TFT Teflon bypass caps
8 x Telefunken high speed soft-recover Fred-style diodes
Polystyrene caps for the analog filter stage
24 x Riken Carbon-Comp 1% resistors (with gold leads) for the signal path
Vampire direct Gold-over-Copper RCA jacks
DH Labs pure 99.999% solid-core silver signal wire with formed Teflon dielectric throughout the internal upgrades.
SoundCoat chassis dampening material to quiet the chassis.
Illuminati Ohm-aha 75 ohm digital hook-up wire to replace the inexpensive stock wire
An Acme Audio silver-plated cryogenically treated IEC connector
WBT silver solder used throughout
6 hours labor to perform the mod
Sonic improvements with the Level-2 are:

Improvements over the stock model are amazing. Bass and dynamics are dramatically improved by our op amps, BlackGates and diodes. It is now smoother sounding (resistors and caps), more transparent (connectors, wire) and imaging and 3-dimensionality are world-class

Our mod takes this accoladed Stereophile Class A-rated component to a much higher level. This mod is offered for a fraction of the cost it would have been if originally manufactured with these parts.

The Level-2 unit will now compete with any DAC made, regardless of price.

Warranty is 90 days parts & labor on modifications we perform on pre-owned units. See the manufacturer's website for further information.