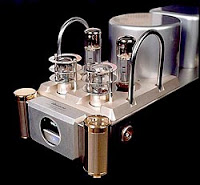 SP80 Level-1 mod - $1990 retro-fit
Our Level-1 mod installs
Replacement of four critical preamp stage, dual op amps with state-of-the-art, reference grade Burr-Brown OPA627s in our custom adaptor pcbs

2 sheets of Soundcoat damping internal chassis

replacement of the "stock" Chinese input, driver and power tubes with upgraded Russian Electro-HAamonix 6SN7 type, Philips JAN-6188 (6SL7) type and JJ/TESLA E34L power tubes (2 MP) or comparable tubes available at time of mod.

10 upgraded audiophile grade capacitors are added in the power supply

4 Auricap metalized polypropylene bypass capacitors are installed in the power supply

16 MultiCap PPFX-S polypropylene film and tin foil coupling caps as well as MultiCap RTX polystyrene film and tin foil coupling bypass capacitors

48 Japanese-made Audio Note 0.5-, 1- and 2-watt signal path Tantalum film resistors are added

2' of DH-Labs 99.99% pure silver 23awg solid-core, eflon tape wrap jacketed, input wire

16 IR Hexfred ultra-fast soft recover rectifying diodes

2 SF4007 Vishay-Telefunken ultra-fast soft recovery diodes

WBT silver solder used throughout
Sonic benefits of our Level-1 mod:
The amps are quieter. The blacks are blacker, thus resolving more low level detail, spatial and ambient retrieval

They are smoother yet more detailed and dynamically more exciting

Tonal balance is more even.from bass to treble while fleshing out the amazingly liquid midrange of the stock machine

Imaging is cleaner & more defined while bass is dramatically improved. The modded units have much fuller weight and authority. They transcends"one note" flabby bass. It sounds more like solid-state in this area.
We warranty the mod for 12-months on all our work.