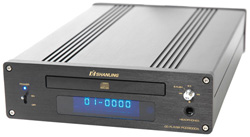 The new Shanling PCD-3000A is a very nice compact CD player with headphone amplifier. It also has a nice headphone amp. We love the compact size as well as the fact that it offers remote volume control to run directly into an amp. Sonics are good for its $500 retail price. Our new Level-1 modification makes it a great sounding unit for the money.
All functions of the player are controlled by the multiple control lever on the right side of the unit. It also comes with a nice remote control. The player uses a Philips CD711 servo system transport It uses the Burr-Brown PCM1738 DAC chip for good sound quality. Volume control is by an ALPS Type 27 potentiometer. These are accurate to within 0.5dB.

The following details our Level-1 modification [retrofit $600 + frt; pre-installed $950 + frt]:
One pair of premium machined Vampire direct gold plated over copper body Teflon insulated RCA female jacks replace the cheap stamped jack modules on the output.

4 x Black-Gate FK-series power supply and C-series output coupling electrolytic capacitors are added.

10 x 1% Polystyrene film and foil capacitors are added in the analog filter stage

2 x Riken OHM ½ and one watt signal path 1% carbon comp resistors with gold-plated leads replace cheap resistors of the stock model.

4 x Cree SiC Schottky rectifying diodes are added.

4 x Vishay-Telefunken SF4007 ultra-fast soft recovery diodes are added in the power supply

We install four small EAR brand Sorbothane isolation feet with new mounting hardware to reduce airborne feedback.

1 sheet of SoundCoat chassis damping material is cut and applied where applicable to control chassis resonances

4 pcs DH Labs 99.999% pure solid-core long-grained silver output signal wires, with foamed Teflon tape wrap dielectric are used to hook up the new RCA output jacks

WBT high silver content (4%) solder used throughou

5 hours total labor.
Options
1) Replacement of one dual and four single op amps with Burr-Brown op amp modules (the world's best) dual and single versions. Add $250.00 with L-1 mod.

Sonic benefits of Level-1 mod:
The unit is quieter, blacks are blacker, thus resolving more low level detail and allowing better ambiance retrieval.

It is smoother and less solid state sounding, while also being more detailed and dynamic.

The Midrange is more natural with less electronic glare. The midrange performance is what you typically spend much more to get in solid state machines.

Imaging is more defined while front to back depth is improved.

Bass is improved with fuller weight and authority.