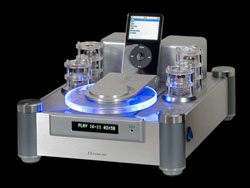 The Shanling MC-30 received a superb review in Stereophile. They felt it was a wonderful music system at its $1000 price. Stereophile's Art Dudley said: "Overall, and virtually regardless of source, the MC-30 had very good musical timing and tunefulness, with a surprisingly good sense of scale and spatial detail with stereo recordings... the MC-30 pulled in 21 stations, some clearly enough to startle me... "the Shanling MC-30 is obviously an extraordinarily good value for the money. The design is ingenious, the build quality superb, the performance beyond merely satisfying... that's it, just buy it."

In one chassis, the MC-30 combines a CD player, tuner, iPod input, and tube amplification with 3 watts per channel. As a small music system it is excellent. However, we looked at it as possibly an excellent preamp, CD player, tuner in one small package. Just add your own amp and build a very nice affordable high end system.

The CD player is very good. It uses a Philips VAM-12 pick-up mechanism coupled with CD-7II servo system for low jitter tracking. The D/A conversion is accomplished by a Burr-Brown PCM1738 DAC chip.

Our Level-2 mod takes this nice Class C rated system and makes it much better. Read the Stereophile review on the stock unit.

The following details our Level-2 mod [$750 + frt retrofrit to your unit:
We add one pair of premium machined Vampire direct gold plated over copper body Teflon insulated RCA female jacks on the output. These replace the cheap stamped jack modules of the stock unit.

4 x DH Labs 99.999% pure solid-core long-grained silver output signal wires, with foamed Teflon tape wrap dielectric hook up the Vampires.

We replace the stock I-V op amps with world's best – Burr-Brown OPA-627s in a special dual DIP module. We use 3 pcs of the Burr Browns. These are 425 opamps.

6 x Japanese-made Riken ½ watt precision 1% carbon film resistors are added to the signal path.

6 x German-made Mundorf M-Cap polypropylene film coupling capacitors are added to the signal path.

WBT high silver content (4%) solder is used throughout

4 hours labor
The finished unit surprised us. Here in one small box is a wonderful, "real" high end preamp, CD player and tuner. Just add your own speakers and away you go. Shanling honors the one year warranty on the modified units.