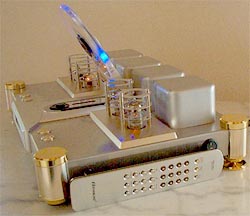 CDT-100 Level-1 mod - $1,400 + freight to your player
Our Level-1 mod installs:
Power Supply: 9 Ultra-fast, soft recovery Hexfred (International Rectifier) and Fred (Vishay-Telefunken) diodes

2 Black Gate Standard Grade electrolytic capacitors

4 Auricap Metallized polypropylene "bypass" capacitors

Vacuum Tube Output Stage: 18 Audio Note Tantalum 0.5- & 1-watt resistors in the signal path

Auricap metallized polypropylene coupling bypass capacitors

Solid-State (Direct) Stage:14 Japanese Riken Ohm 0.5-watt signal path Carbon resistors with gold-plated leads

4 Black Gate Standard grade electrolytic output coupling capacitors

4 of our new $85.00 custom-made Burr-Brown State of the Art OPA627 op amp boards to replace the stock 2604 dual opamps

Miscellaneous: 4 ft. DH Labs 99.99% pure, long-grain silver, 23 awg solid-core, Teflon "air matrix" dielectric output wire

-2 sheets of Soundcoat damps internal chassis

TRT silver-content Wonder Solder used throughout
Sonic benefits of our Level-1 mod:
Significantly smoother, harmonically more correct solid-state outputs

Improved signal-to-noise ratio on the tube outputs for greater ambient and spatial micro-detail retrieval

More bass weight, impact, definition and control on both outputs
CDT-100 Level-1+ mod - $2,500 retro-fit to your player. $1,100 retrofit on Level-1 previously modified units
Over the Level-1 mod, our Level-1+ mod adds
Audiocom Superclock II

Our proprietary power supply for the Superclock

Comprehensive Bybee Filter treatment

Solid-silver ultra-pure output terminals
Sonic benefits of our Level-1+ over the Level-1 mod:
Further gains in analogue-like smoothness, dynamics and that uncanny elegance only the very best machines from Audio Research, BAT, dCS, Linn, Musical Fidelity and Zanden have. With this mod, the Shanling is truly competitive with the very best, cost no object.
Music Hall's 12-month factory warranty extends to our modified players. Click here for reviews.

Owner Feedback on Shanling CDT-100 mods
Walter,
I've got to tell you - those new BurrBrown OPA627 opamps are unbelieveable! I spoke to Chris and had them installed and running in 10 minutes. It's like a new player! I thought the Shanling was great with the first upgrade. I would put this up against anything right now. Unbelievable!

Hi Walter,
I had to write and let you know what an incredible difference you have made in my life - well - my system, really! The new modifications to my Shanling CD T-100 have brought a touch of un-reality into my system! I simply cannot believe for how much better every single aspect of the sound has changed - and all for the positive!
You took an already fabulous and world-class CD player (with your Level-1 modifications) to a height that I've not heard anywhere else at any price. No kidding. I would put this player up against any in the world right now and you *know* that I've heard most of the so called "best". This player simply smokes them with its sheer unbridled musicality. Sure, it has an astounding ability to recreate a soundstage in every dimension; and to articulate the instruments within that soundstage; but now! ... holy op-amps, Batman! You guys should issue a challenge to all comers, if they dare - anyone who listens to a lot of live music would jump on this player over any I've ever heard at any price in a heartbeat. It's thatgood!! Thanks again for reminding me that real musicality *is* possible at home (and I don't mean with just my piano). Kudos to all involved.
Joe

Walter,
Received the unit on Friday in excellent shape. Plugged it in and grabbed my wife's "Indigo Girls Live" CD to start the burn-in process. I ended up listening to the whole disc. Oh my God -what have you folks created? I sat on a coffee table, without moving, in front of my system for the full 70 minutes or so in utter astonishment. I think I shed a tear or two at some point. I can give all the adjectives to describe what I heard but I am sure you have heard them all. This is the best CD player I have ever heard, and I have not yet plugged in the Western Electric tubes. You said to burn-in for 2-300 hours. I am curious as to how much better this thing will get. I have noticed that the low-end is opening up more and more. Probably due to my new AQ Python interconnects, as well as the player.
I have the unit going straight to the Sunfire amp. It has plenty of volume with most all my CDs. I have only run into one CD that was recorded at pretty low levels where the volume needed to go to about 95. Toad the Wet Sprocket, Indigo Girls, Tori Amos, Blues Traveler, Dave Matthews are being experienced with new appreciation. Even heavier rock like Creed and Rage Against the Machine sound just phenomenal. The unit shines with the before mentioned groups, as well as some Windham Hill that I have played. I am excited to start hitting my classical collection.

Walter,
Holy Shit and Wow! I have never heard the Klipchs sound this good! Now I know why I was using the volume control in the T100. I am feeding the sub a signal that has to be attenuated the same as the amps from the solid state outputs. For now I have to adjust sub level as I do amps. We need to discuss getting a custom volume control, maybe the same as what's in the amps, that will run up and down with amps (respond to Shandling remote).This could be placed in the signal path to the sub? Did I say wow? I am happy as a pig in shit with the sound and it's not even burned in yet! Hey, let me know what you think on this matter.
Greg