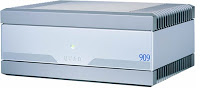 The Quad 909 power amplifier is a wonderful 140wpc power amp (250 watts into 4 ohms), with a midrange unsurpassed in its price range which The Abso!ute Sound review compares to $4000 tube amps. The 909 uses a unique technology called current dumping which has a very high-quality but small class A amplifier driving a high-current efficient class B amplifier. The result is the sound of class A with the power of class B. Again the midrange performance is superb. Bass, treble and resolution are good for the price but not exceptional. In addition we have many complaints about the speaker binding posts. Our Level-2 mod turns the 909 into a superb amp with bass and treble on a par with its superb midrange. We also upgrade the binding posts to quality Cardas posts. Our mod was designed by Chris Johnson, founder and former president of Sonic Frontiers.

Sonic improvements with the Level-1 are: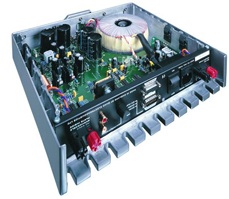 Bass extension and midbass slam are improved.

Treble detail both micro and macro and dynamics are improved and now keep up with anything we have heard under $3K. 

Imaging is more focused while the entire soundstage is both deeper and wider.

The upgraded binding posts now accept spades as well as bananas and bare wire.

Transparency is improved , a fine layer of grunge removed. You get a cleaner look into the musical soundstage.

The amp is quieter to resolve more low level detail and dimensionality. 

The following details our Level-1 mod [$990 + freight retrofit]:
1 x dual configured SMT-style Burr-Brown OPA-627 op amp on a custom adapter module for the input/driver stage 

2 x Multicap PPMFX metalized polypropylene input signal coupling capacitors 

6 x Nichicon audio grade KZ (Muse) and FG (Fine Gold) electrolytic power supply capacitors 

4 x EAR small" compliant Sorbothane isolation feet

1 x set (two dual) Cardas CCGR-Short Rhodium over Tellurium copper binding posts 

Ten feet of WBT solder 

4.5 hours labor. The mod is quite labor intensive as the main PC board has to be totally removed to complete much of the above work. 
Sonic improvements with the Level-2 are:
Bass response and dynamics are dramatically improved. 

Treble detail both micro and macro is improved and now keeps up with amps selling for up to $5K. 

Imaging is more focused while the entire soundstage is both deeper and wider.

The L-2 modified amp will now compare to $4.000 - $5.000 amps at a fraction of their cost. We kept the beautiful midrange and added the dynamics, bass and treble extension and transparency of much more expensive products. 

The following details our Level-2 mod [$1,390 + freight retrofit ]:
2 x dual configured SMT-style Burr-Brown OPA-627 op amp on a custom adapter module for input & driver stages 

1 x pair of premium Vampire direct gold-plated over copper body" RCA input jacks 

1 x set (two dual) Cardas CCGR short Rhodium over Tellurium copper binding posts 

2 x Multicap PPMFX metalized polypropylene input signal" coupling capacitors

4x Amtrans AMRG film & foil polypropylene feedback capacitors with gold-plated OFHC leads

12 x Nichicon audio-grade KZ (Muse) and FG (Fine Gold) electrolytic power supply capacitors 

6 x Takman REX series carbon film signal series resistors 

4 x EAR small compliant Sorbothane isolation feet

10 x feet WBT Solder used throughout

7 hours labor