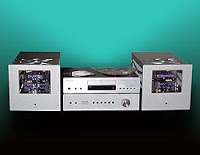 New Jolida Music Envoy mod: The Jolida Music Envoy preamp is part of the $9500 Music Envoy pre/power package and Jolida's best preamplifier. It is fully remote controlled and has a very good phono section. The stock unit is a wonderful value at $1500 retail. Our Level-1 and 2 mods make it dramatically better.
Musical Envoy preamp Level-1 mod
Jolida Musical Envoy preamp Level-1 mod [$1990, $850 retrofit] -
Our Level-1 mod installs :
Two sheets of SoundCoat chassis damping material cut & applied where applicable
Replacement of the stock Chinese preamp tubes with 3rd generation Electro-Harmonix 12AX7 (x2) and 12AT7 (x2) for low noise/ ow microphony
Four Auricap metalized polypropylene interstage coupling capacitors and 2 x 10uf Solen metalized polypropylene feedback coupling caps
2 x 10uf Auricap metalized polypropylene output coupling capacitors and 2 x Rel-Cap TFT Teflon Film and Tin Foil bypass coupling caps
12 x AudioNote Tantalum film ½-watt signal path resistors
7' of DH LABS Revelation series pure 99.999% silver solid core input signal wire, with teflon tape-wrap dielectric + Kimber TCSS Teflon over OFC copper wire for ground
2 pairs of premium Vampire "direct gold plated over copper body" RCA female jacks
4 x IR-Hexfred 8A 600V ultra-fast soft recovery diodes in power supply
4 large EAR compliant sorbothane isolation feet
TRT WonderSolder used throughout 
6 hours labor 
Jolida's 18-month factory warranty extends to our modified amps. Click here for stock specs.
Sonic benefits of our Level-1 mod:
The preamp is quieter and the silences are blacker.to resolve more low level detail, ambience retrieval & three-dimensionality.
Transparency is greatly improved as though a slight veil over the music has been removed.
The unit is now more dynamic and seems to play louder, with greater dynamic contrasts.
Imaging is better defined and the soundstage is much larger, wider and deeper.
Bass is dramatically improved, with fuller weight, authority and more impact like solid state preamps
Jolida Musical Envoy preamp Level-e mod - $2,190 ($990 retrofit) - 
Our Level-2 mod adds :
4 x exceptional NOS Brimar and Mullard tubes and Black Gate capacitors 
The Level-1 preamp is a killer value at under $2k while the Level-2 modified preamp is dramatically better than the stock and quite competitive with other tube preamps selling for up to $5000