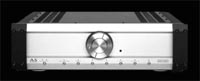 The Musical Fidelity A5 Integrated amp is a very high value 250wpc dual mono amp. It has received very good reviews and offers tremendous value at its $2500 retail price. It has a nice phono section as well as a home theater bypass. It produces over 400 watts into a 4 ohm load.
Our Level-2 modification is a dramatic 9-hour rebuild that turns it into a world class performer. Our modification was designed by Chris Johnson, the founder and former president of Sonic Frontiers.
The following details the Level-2 modification for the Musical Fidelity A5 Integrated Amplifier [$1,600 retro-fit + freight]:
One sheet of SoundCoat chassis damping material cut and applied where applicable
Eighteen Audio Note Tantalum ½ watt signal resistors are added in the signal path
Sixteen Black Gate N, NX, FK and C-Series electrolytic capacitors are used in various input, output and power supply locations
Eight polystyrene film and tin foil 1% film capacitors used in various filter locations
Two Multicap PPMFX series 0.22uf metalized polystyrene caps are used in the Zobel network
Two dual Burr Brown OPA-627 op amp modules (on DIP daughter boards), the world's best audio op amps, replace the inexpensive opamps of the stock amp.
Eight International Rectifier Hexfreds and Four Vishay-Telefunekn ultra-fast, soft recovery diodes are used to rebuild the bridge rectifiers
One sheet of ERS EMI/RFI suppression paper applied in critical locations
Two feet of DH LABS 23awg "Revelation series" pure 99.999% silver solid core input signal wire, with Teflon tape-wrap dielectric
Three feet of Connex BL-AG pure silver "shielded" interconnect cable
Three feet of Neotech 18awg UP-OCC solid-core copper output signal wire
One pair of premium Vampire "direct gold plated over copper body" RCA female jacks are added
One pair of Cardas dual Rhodium over copper binding posts replace the cheap brass posts of the stock unit
One Acme Audio Cryo silver IEC AC inlet is added
Four EAR large Sorbothane isolation feet are added to reduce airborne vibration.
Ten feet TRT WonderSolder used throughout
9 hours labor 
Sonic Changes of the Level-2 modification
The modified amps are warmer in the midrange with more body. They are clearly more musical. Treble response is more extended and smoother.
Images are far better delineated on large scale musical passages. The finished amp is more natural sounding with more tube-like depth as well as better dynamics.
They sound faster w/ better bass definition, low frequency extension and weight. Micro level detail is increased across the frequency band from bass to treble.
Transparency, the ability to see into the soundstage is increased and the unit now also has and a wider and deeper 3D soundstage.The modified design takes a great vale amp and makes it great!