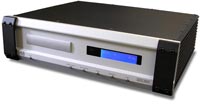 The Musical Fidelity A5CD player is considered by many to be the finest $2,500 CD player made. In the Absolute Sound review, they said it was the best player under $5000. The reviewer even bought the sample as reference. Our 2 modifications takes this great value 192K upsampling tube player and make it a world class, price-no-object machine.

The following details the Level-2 modifications for the A5CD Player ($1,660 plus shipping retrofit to your machine)
 
4 additional Vishay SF-4007 ultra-fast soft-recovery rectifying diodes are added to the power supply
One pair of premium machined Vampire direct gold plated over copper body Teflon insulated RCA female jacks to replace the cheap stamped jack modules
14 upgraded to the DAC power supply caps and output coupling capacitors
8 Riken Ohm ½ and one watt 1% carbon comp gold plated resistors in the signal path
4 IR Hexfred ultra-fast soft recovery diodes in the power supply
6 dual op amps (in the I-V and buffer positions) with six Analog Devices AD8620 modules (one of the worlds best audio types) + 6 gold-plated machined DIP-style IC sockets
2 sheets of SoundCoat chassis damping material cut & applied where applicable, to control chassis resonances
4r pieces of DH LABS 99.999% pure solid-core long-grained silver output signal wires with foamed Teflon tape wrap dielectric
WBT 4% high silver contentsolder used throughout
We upgrade the main diodes from the Hexfred type to Cree SiC Schottky diodes.
We replace the Analog Devices AD8620 op amps with the world's best- sounding opamp, the Burr-Brown OPA-627 dual module - 6 pieces total are used.
10 additional upgraded electrolytic caps are added to the high voltage power supply positions
We replace the IEC AC inlet with an Acme Audio cryogenically-treated silver type
We replace the analog filter caps with 4 x 1% polystyrene film and tin foil types
7.5 hours total labor to complete the mod.
Options
Add an upgraded Audio clock with a digital power supply for $480
After-market mods come with 1-one year warranty on all work performed

Sonic improvements of the Level-2 mod

The unit is quieter. Blackss are blacker, resolving more low level detail with better ambience. IIt is a tad warmer, with a more liquid midrange. The little glare of the stock unit is now gone with a warmer presentation. Images are sized better and more defined. Stage width and depth are both improved.

Transparency is improved and you can now look farther into the soundstage. Bass slam and extension are dramatically improved, with fuller weight and authority.. The unit now sounds more like solid-state in this area and competes with mega-buck players.

.