Focal Headphones
Focal, in France, make wonderful hi end loudspeakers and their new headphones are superb. The Elear and Utopia are setting new performance bars in their price ranges. These headphones are both hand made bt Focal in France at only 6 total pair per day.
"Focal rocked the premium headphone world with two new ultra-premium headphones-the Focal Elear, priced at $999, and their new flagship Focal
Utopia, priced at $3999. Both headphones, in my opinion--based on sound quality at their prices, their designs, ergonomics, and based on technical
performance/measured performance--make a strong case for being amongthe finest moving coil dynamic headphones ever crafted."
Head Fi Magazine
Elear
open back headphones
$999.00
SAVE $300.00
Now $699.00 with trade-in of any working headphone. Call for details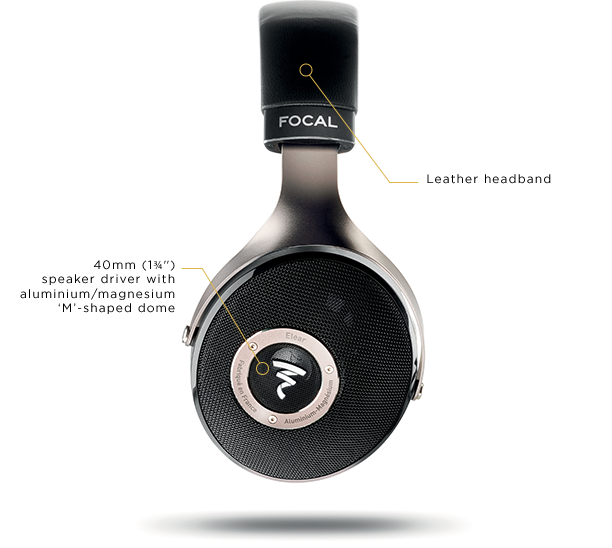 Elear is an open back headphone featuring numerous innovations from Focal, which are key to their outstanding acoustics performance.
Elear offers the world's first, full range and fully open back loudspeaker, built-in to a pair of headphones. Additionally, they are made from an
Aluminum-Magnesium blend, in a formed shape, unique to Focal with the company's brand new "M" shape dome. This new dome shape has
originated from the research performed during the Utopia headphone project that will offer the highest quality sound, while avoiding potential
The acoustic quality of this exclusive solution allowed Focal to avoid the use of any crossover or passive filtering process in order to achieve a
frequency response from 5Hz to 23kHz.
The result is thus impressively realistic, making the headphones virtually disappear and providing listeners with a truly unique high-fidelity audio
experience. Elear also benefits from the R&D done on Utopia. With regards to mechanical design, the rotation traditionally included on the yoke
has been moved into the headband to ensure the total purity of the design. The microfiber fabric, used on the cushions, offers a true comfort for all
head shapes and sizes – a quality that is mandatory for long listening
Specs


Type: Circum-aural open back headphones
Impedance: 80 Ohms
Sensitivity: 104dB SPL / 1mW @ 1kHz
THD: <0.3% @ 1kHz / 100dB SPL
Frequency response: 5Hz - 23kHz
Loudspeaker: 1 (40mm) Aluminum-Magnesium "M" shape dome
Weight: 0.99lb (450g)
Cable length: 13.1ft (4m)
Connectors: 1 x 14" stereo Jack connector / " (3.5mm) Jack
Carrying case
Utopia
$3999.00
SAVE $1000.00
Now $2999.00 with trade-in of any working headphone. Call for details
Utopia are THE reference high-fidelity headphones manufactured by Focal. They are the result of 35 years of innovation, development and manufacturing of high-end speaker drivers and loudspeakers. Equipped with exclusive technology, they offer striking realism, neutrality, dynamics and clarity, for sound with unrivalled purity. Utopia are unique they are the world's first audiophile headphones to be equipped with totally open-backed full-range speaker drivers with pure Beryllium 'M'-shaped domes. They meet all the requirements expected of high-end headphones due to their sophisticated and elegant design and to purposeful materiality, such as the carbon fibre yoke and true lambskin leather ear cushions. The acoustic quality of this exclusive solution allowed Focal to avoid the use of any crossover or passive filtering process to achieve a frequency response from 5Hz to 50kHz!
The listening experience is outstanding in terms of realism, natural sound reproduction, dynamics and clarity. When listening to them, the
headphones virtually disappear and the audio signal is revealed with a level of precision never achieved until Utopia. Utopia phones are simply amazing
Tech Radar said:
"These ultra-premium headphones pack in the world's first full-range loudspeaker. Crazy expensive, but crazy good."

Inner Fidelity said:
"The Elear and Utopia are simply extraordinary. The sense of dynamism,tonal balance, and smooth clarity of both are, to put it mildly,
disorientinglydisruptive to my sense of where headphones are at today and in what wayand by how much these are better."
Specs
Type: Circum-aural open back headphones
Impedance: 80 Ohms
Sensitivity: 104dB SPL / 1mW @ 1kHz
THD: <0,2% @ 1kHz / 100dB SPL
Frequency response: 5Hz - 50kHz
Loudspeaker: 1 40mm pure Beryllium "M" shape dome
Weight: 1.08lb (490g)
Cable length: 13.1ft (4m)
Connectors: 1 x ¼" phone Jack / (6.35mm) stereo jack / 2 x 9.5mm Lemo
Carrying case