Silverline Audio
Since 1996 Silverline Audio has been manufacturing high-end premium quality loudspeakers at affordable sensible and realistic prices in their California facility. Each pair of Silverline loudspeakers is slowly and carefully hand-crafted. We carry the full line but the two models listed below offer unusually high value.
Minuet Supreme Plus - exceptional small monitors which are great for small rooms and desk-top audio - Absolute Sound small speaker of the year The Plus is now even better. $699/pr in Rosewood $749/pr in Piano black
Minuet Grand- Superb monitor with exceptional bass $1999/pr
Prelude - wonderful slim column speaker in Cherry or Rosewood, $1,499/pr.
Prelude Plus- 5 driver 2-way super thin design in real Rosewood-Step up from the Prelude- $1999/pr
Minuet Grand



$1999/Pr
For over a decade, The Silverline Minuet speakers have set up a new level of performance for compact sized monitors under $1000.00.
This new
Minuet Grand
raises the bar in a more expensive monitor that will finally work in larger rooms with greater dynamics. The
Minuet Grand
uses all new drivers and an enhanced crossover network. The new mid-woofer has an amazing long excursion as well as high power handling capability. It comes with a 5.25-inch treated paper cone housed in a rigid die cast aluminum basket, delivering incredible dynamics and high definition. The over-sized magnet motor and larger voice coil allow it to handle high current effortlessly and precisely. The new ultralight weight titanium diaphragm tweeter provides superb transparency and more air.
The imaging is superb and dynamics and bass blew us away. This is one serious monotor.
Specifications
Design: 2-Way, Bass reflex, rear ported
Drivers: 1" Titanium Tweeter & 5.25" Mid/Woofer
Frequency response: 40 – 25,000 Hz
Sensitivity: 89 dB (1w/1meter +/- 3 dB)
Nominal Impedance: 8 ohms
Crossover Frequency: 3,000 Hz
Recommended Power: 7 - 300 watts
Dimension (H x W x D): 11.875" (300 mm) x 7.875" (200 mm) x 14.125"(352 mm)
Shipping Weight (pair): 44 pounds (20 kg.)
Speaker Connect: 5 ways binding posts, bi-wireable
Finishes: Rosewood veneer
Price: US $1,999.-/pair  
"...The Preludes' single most impressive attribute was their ability to present a sound that was big dynamically and spatially..."
- Stereophile March 2007, Robert Deutsch; 2007 Stereophile Editor's pick in Recommended Components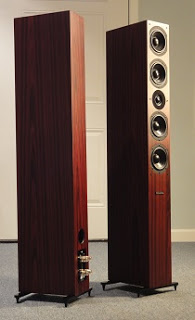 Prelude Plus
$1995.00
Building on the accumulation of experiences and technical improvements throughout the last five years in the Prelude, a newly designed Prelude Plus loudspeaker will become a reality in the summer of 2013.  The new Prelude Plus loudspeaker features a ultra slim design with 5 drivers for more dynamics, a larger soundstage and better bass than the standard Prelude. 

The new Prelude Plusloudspeaker features a soft dome tweeter and four treated paper cone, long throw mini mid/woofers.  The Prelude Plus loudspeakers generate an incredibly big soundstage from their small enclosures.  Sweet highs, warm mids, and fast, tight, powerful bass makes for a sound that is vivid and revealing. The Prelude Plus speaker is highly efficient @92 dB 1 watt/1 meter and is an excellent choice for both low power SET and high current solid state amplifiers. It is designed not only for traditional 2 channel systems but is an excellent choice for multi channel home theater systems too.
Specifications
Design (Bass Reflex, Rear Ported):
2 way 5 driver design with 1" silk dome tweeter & 4 x 3.5" treater paper cone midrange/woofers
Frequency Response:
35 - 28,000 Hz
Max. Transient Output:
118 dB
Nominal Impedance:
8 ohms
Crossover Frequency:
3,500 Hz
Recommended Power:
12 -300 watts RMS
Dimension (H x W x D):
40" x 5" x 8"
Shipping Weight:
65 lbs./pair
Speaker Connections:
Bi-wire
Finishes:
Real Rosewood Veneer