Silverline Audio
Since 1996 Silverline Audio has been manufacturing high-end premium quality loudspeakers at affordable sensible and realistic prices in their California facility. Each pair of Silverline loudspeakers is slowly and carefully hand-crafted. We carry the full line but the two models listed below offer unusually high value.
Minuet Supreme Plus - exceptional small monitors which are great for small rooms and desk-top audio - Absolute Sound small speaker of the year The Plus is now even better. $699/pr in Rosewood $749/pr in Piano black
Prelude - wonderful slim column speaker in Cherry or Rosewood, $1,499/pr.
Prelude Plus- 5 driver 2-way super thin design in real Rosewood-Step up from the Prelude- $1999/pr
"...The Preludes' single most impressive attribute was their ability to present a sound that was big dynamically and spatially..."
- Stereophile March 2007, Robert Deutsch; 2007 Stereophile Editor's pick in Recommended Components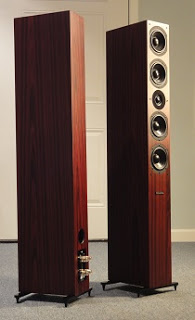 Prelude Plus
$1995.00
Building on the accumulation of experiences and technical improvements throughout the last five years in the Prelude, a newly designed Prelude Plus loudspeaker will become a reality in the summer of 2013.  The new Prelude Plus loudspeaker features a ultra slim design with 5 drivers for more dynamics, a larger soundstage and better bass than the standard Prelude. 

The new Prelude Plusloudspeaker features a soft dome tweeter and four treated paper cone, long throw mini mid/woofers.  The Prelude Plus loudspeakers generate an incredibly big soundstage from their small enclosures.  Sweet highs, warm mids, and fast, tight, powerful bass makes for a sound that is vivid and revealing. The Prelude Plus speaker is highly efficient @92 dB 1 watt/1 meter and is an excellent choice for both low power SET and high current solid state amplifiers. It is designed not only for traditional 2 channel systems but is an excellent choice for multi channel home theater systems too.
Specifications
Design (Bass Reflex, Rear Ported):
2 way 5 driver design with 1" silk dome tweeter & 4 x 3.5" treater paper cone midrange/woofers
Frequency Response:
35 - 28,000 Hz
Max. Transient Output:
118 dB
Nominal Impedance:
8 ohms
Crossover Frequency:
3,500 Hz
Recommended Power:
12 -300 watts RMS
Dimension (H x W x D):
40" x 5" x 8"
Shipping Weight:
65 lbs./pair
Speaker Connections:
Bi-wire
Finishes:
Real Rosewood Veneer