Music Hall Audio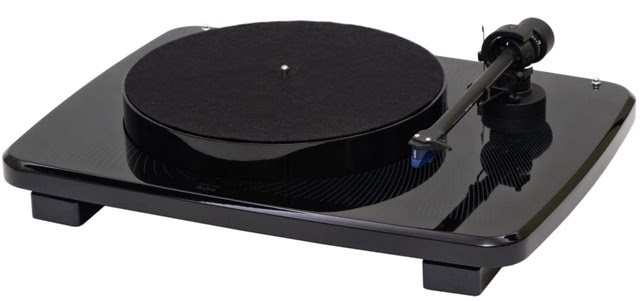 Ikura Turntable
$1195.00
For the first time, Music Hall collaborated with an outside industrial design firm to develop and complete the ikura project. The foundation of ikura's design remains the unique two-piece split-plinth design originated by music hall and the final product is the result of a dynamic design partnership between Doing & Done, headed by designer James Kyroudis, and music hall.
The Music Hall ikura turntable is a 2-speed, belt driven turntable with many singular features. Starting with music hall's hallmark two-piece split-plinth design. The plinths are isolated and separated by three vulcanized rubber cones.
Three adjustable conical feet, a 2-speed dc synchronous motor, power switch, wiring and electrical parts are all mounted on the bottom plinth while the critical sound reproducing components; the main bearing, arm and cartridge are mounted on the top plinth.
The mdf (medium density fiberboard) platter and felt mat sit on a high quality, stainless steel ball bearing sheathed in Teflon providing fluid and noise-free operation. The bearing assembly comes pre-charged with lubricant.
The effective length of the tonearm is nine inches. This allows for a very shallow tracking arc on the record thus reducing distortion and record wear. The tonearm comes mounted with a high quality moving magnet cartridge and features Swiss made ABEC 7 stainless steel bearings. It comes with a $225.00 Ortofon 2m Blue cartridge premounted by the factory for optimum performance.

A30.3
$999.00
85wpc remote controlled integrated amp with quality DAC, phono stage & 5 analog inputs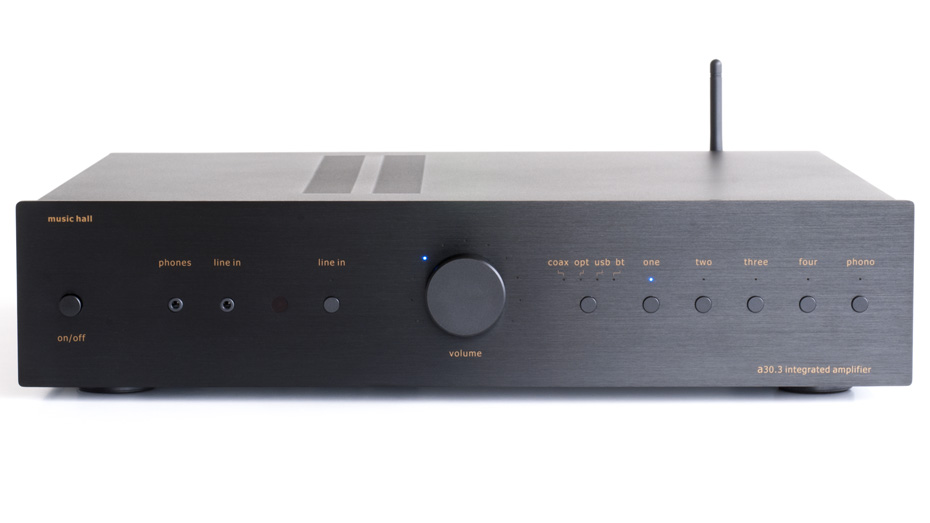 85 watt/channel integrated amp

MM phono pre-amp

3 digital inputs (USB, toslink, coax)

24bit/192kHz Cirrus Logic CS4398 DAC

Bluetooth connectivity

Stout chassis with rigid aluminum faceplate

5 analog inputs

Remote control

Pre-amp out

Easy to set-up and use

System remote also controls the 

cdac15.3

Available in black only
Other Music Hall models
Call to discuss
Marimba. Our favorite small reasonably price monitor speaker. The Marimba is a small black monitor that sounds great and is only $350.00 for the pair.
C-DAC-15.3 Replacement CD player for the 15.2. Now w/ better sonics & 3 input DAC for only $50.00 more $549/ $950 modified
DAC-15.2 24bit/192k D/A converter with hi-rez 24/96 USB input $299
A-15.3 50wpc integrated amp with nice phono stage. Far superior to the discontinued A15.2 that got excellent reviews $549/$950 modified
DAC-25.3 24/192 upsampling DAC with 24/96 hi-rez USB input $599 / $1390 / $1990
PH-25.2 Hybrid headphone amp with tube preamplifier $399
MMF-2.3 Turntable with Music Hall $100.00 Tracker cartridge $499
MMF-2.3LE as above in Ferrari Red hi gloss finish $549
MMF-5.3 [$995] - Dual plinth turntable withg carbon fiber arm and $440 Ortofon 2M Bronze cartridge
MMF-5.3SE [$1395] - upgraded Rosenut version of the MMF-5.3. Carbon fiber arm with $440 Ortofon 2m Bronze cartridge
MMF-7.3 w/o cartridge but carbon fiber arm [$1395] - turntable with detached motor system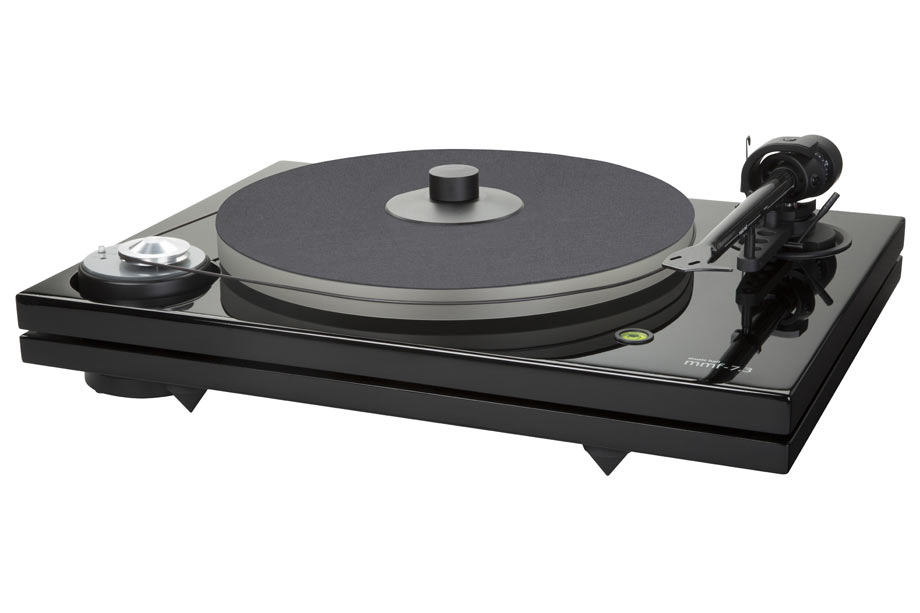 MMF-7.3 with cartridge [$1595] - as above but with $440.00 Ortofon 2m Bronze cartridge
MMF-9.3 with cartridge [$2395] - Triple plinth turntable with carbon fiber arm and $795 Goldring MC cartridge
MMF-11.1 [$4495] New top-line table with 4-plinth design, Evolution 9CC tonearm with dual motors & 3 flywheels design. Adjustable azimuth and VTA. 21.3 x 13.8 x 7.8", 39.5 lbs.