Take the critically acclaimed Deepblue 3 and add Wifi streaming and you have the Deepblue Sky
It will blow you away. Now Only $499.00 with 440 watts, better drivers, upgraded inputs and WIFI Control with Wifi Direct.
On sale for a limited time for only $299.00

In the Chris Martens Beep Blue 2 review he says:
1) "First, the deepblue2 offers far more robust dynamics than any other Bluetooth speaker I've yet heard."
2) "Second, the deepblue2 offers a viable alternative to entry-level hi-fi system sound, in part because it offers both a more elaborate driver array and a more powerful amplifier than many low-to-mid-price entry-level stereo systems do."
3) "in keeping with the 'deep' part of its name, the deepblue2 offers uncommonly potent and pleasantly extended bass—bass that is more than competitive with the low frequency output of most comparably priced sets of mini-monitors I have heard."
4) Quite frankly, I know of no other $499 playback system that could do a better job, whether we are talking about a single-box system like the deepblue2 or a very modest multi-piece stereo system.

Read the entire review at:
http://www.hifiplus.com/articles/starting-points-peachtree-audio-deepblue2-bluetooth-loudspeaker/?utm_campaign=Hi-Fi%2B+Weekly+Emails&utm_medium=email&page=3&utm_source=email-378


Computer Audiophile summed up their original Deepblue review with:
"Peachtree Audio's deepblue music system will impress all but the most jaded audiophiles. deepblue may not be for everyone, just 99.9% of us who enjoy music that sounds good for a good price. Peachtree's use of DSP to compliment it's amplifier and driver design has elevated deepblue beyond the competition in this crowded market. It's the best small table top type of audio device I've heard to date. deepblue also reminds me of the popular water cooler question, "what stereo should I buy?" The answer to this question is the best stereo one can buy is the stereo he listens to most. deepblue won't force people to listen to more music but at least it sets people up for success if listening to more music is their goal. When the ambassador speaks everyone listens, or can't stop listening. deepblue = CASH List = No Brainer."
Read the entire review at:
http://www.computeraudiophile.com/content/526-peachtree-audio-deepblue-review/
Deepblue Sky is a ground-up re-design from the original Deepblue. The somewhat visible elements, behind the speaker grill, are what most people will immediately see. Deepblue Sky's new improved 6.5" long excursion bass driver is complemented by two upgraded 3" inverted aluminum cone mid-range drivers and two 1" soft dome tweeters. Deepblue Sky supplies 440 watts of real RMS power to the drivers vdersus 240 in the original. It also ads a digital input and upgrades the replaces the bluetooth with Wifi control.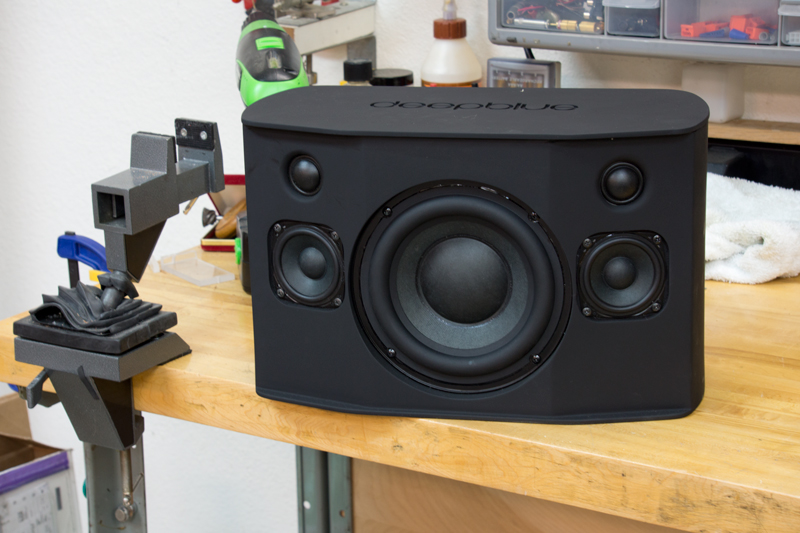 Deepblue 2/3 reviews reviews have been great:
"…after testing somewhere between 100 and 200 Bluetooth speakers, I can say the deepblue2 is my favorite."
- Brent Butterworth about.com
"Even if you're on the record with your undying hate of Bluetooth speakers, this is the one you're going to love. I'm not kidding. I truly don't understand why the DeepBlue2 sounds so good — and frankly, I'm not sure I care. Take my word for it — it just does. Get one."
- Scot Hull Confessions of a Part-Time Audiophile
The Ultimate Bluetooth Speaker
deepblue2 redefines the quality and quantity of sound possible from a Bluetooth speaker. It combines the convenience of a single box design with the full-range powerful sound of a big HiFi stereo system. With deepblue2 you'll experience irresistible sound that you can easily move from room to room.
Great for the bedroom and amazing as a simple single box audio system for your large screen TV

deepblue2 features two wired inputs: one optical and one 3.5mm analog. Want to connect an Apple TV or Amazon Fire TV? No problem. Sonos Connect? Ditto. Dig vinyl? You can do that too by using a turntable with a built-in or external phono preamp.
deepblue2's optical digital input accepts high-resolution 24/96 digital audio for better-than-CD-quality sound. If your HDTV has an optical digital output (most do) you can even use deepblue2 to listen to TV, movies and games! Awesome.