Black Ice Audio
Black Ice Audio is the new name for Jolida.
With final assembly performed in the US and critical parts like transformers sourced from Germany, tube manufacturer Black Ice Audio, formerly Jolida, has garnered an enviable reputation for high-performance products at real-world prices.
The new Black Ice products were designed by industry legend Jim Fosgate and take the new lines performance to a new level. They now can play with the big boys. These new products are not almost as good as products selling for 2-3 tmes their price.
They ARE as good!!
Black Ice F360
Hybrid tube preamplifier by Jim Fosgate with tone and dimension controls
$1995.00
The F-360 is high performance Vacuum Tube Hybrid Preamplifier with a flexible electronic approach to solving multiple issues of buffering the signal, controlling high and low frequencies, focusing or expanding your 3 dimensional image, and rear outputs for the option of creating an analog surround system. The letter F in the F 360 is in honor of the designer, Jim Fosgate ("Foz"). Foz's electronic design experience and excellence spans decades and coupled with Jolida's decades of manufacturing experience, results in a unit which can provide our client's with excellent sound reproduction at a price far below what the competition offers. The 360 offers both XLR and RCA inputs and outputs as well as outputs for a mono or stereo subwoofer. It also has a full tape loop for external components or a legacy tape deck. And for those who want to go even further there is a set of outputs for rear stereo speakers. Jim has used an upgrade to the classic Cascode circuit design and added a MOSFET to give the musical performance of tubes with the speed and detail of current solid state designs. Unlike most tube equipment it can product a perfect square wave and uses zero negative feedback when the tone controls are off.

In the TNT Audio review they summed with:
"The F360 is built with state-of-the-art components, including ALPS audio potentiometers, gold-plated RCA input and output sockets, custom-made polypropylene capacitors (for best dissipation factor (DF) and dielectric absorption (DA)), audio grade ESA ClarityCaps, and HEXFRED diodes (for ultrafast, ultrasoft recovery). Custom wound audio transformers have German grain-oriented silicon steel cores (they have low loss, high permeability)."
"It's been in my system now for several months, and I haven't been disappointed. Sound quality is superb, and the degree of sound tailoring is very appealing, especially the sound stage expansion that enhances the sense of depth and space, and the ability to add rear speakers for image reinforcement. The bass equalisation increases impact without boom, and can reduce any booming. I'm a big fan of the sound stage expansion which makes my listening more enjoyable, and I've enjoyed the ability to switch in or out the equalisation to tailor the presentation of the very wide range of recordings I have. The logic display visualises the signal phasing, revealing in phase and out of phase components, as well as left and right channels. When in stand-by mode, the unit can conveniently be switched on/off by touching the illuminated logo on the front panel, or with the remote handset. On this model, the remote control is a much more serious proposition - it's a substantial metal unit with a size and form factor that sits nicely in the hand (it weighs a reassuring 255 g, and is cold to the touch). I especially like that the preamplifier can be put into standby or muted from the handset. The pre-amp has a generous five inputs, and both unbalanced (RCA) and balanced (XLR) outputs, as well as a balanced input. It's designed to deliver musical accuracy, and driving my Viganoni & Viganoni Sachem V2 monoblocks into my floorstanding speakers, I have been enjoying a superbly clean and detailed music presentation that's big and spacious. It's a bit unusual nowadays to find a pre-amplifier with so much control, and having lived through the era of minimal controls for "purity", I must say that having choice over using a range of presentation controls is a strong added-value part of the F360's appeal. So is the 'classic' look of the front panel and knobs. I find it surprising that this unit isn't priced more like $ 3,500-4,000. But, then, what I've learned from my time with these products is that tube listening is delightful and that's the reality of the distinctive high performance-price ratio offer of the Black Ice Audio brand and its JoLida tube technology heritage. With Jim Fosgate's designs, that is a great proposition."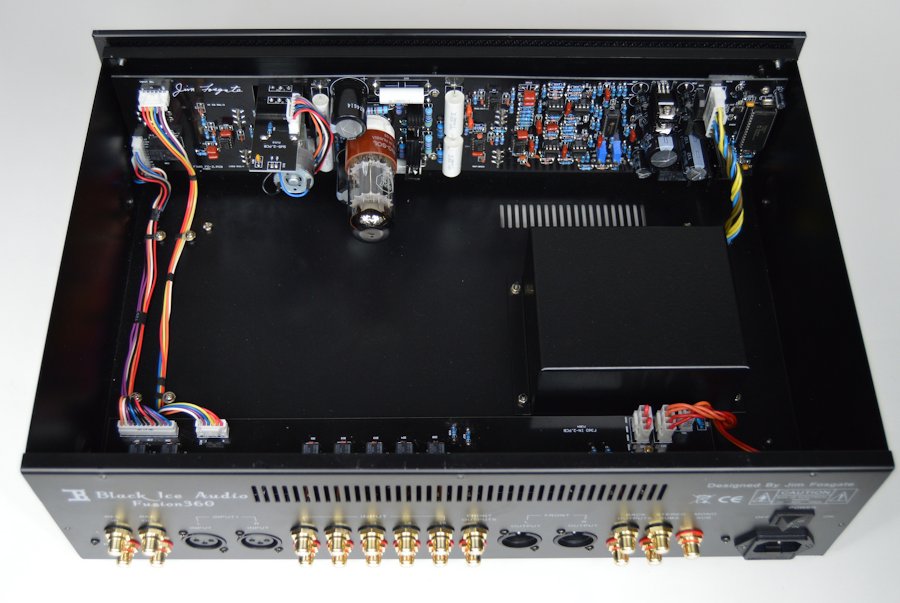 Ultra clean design with short signal paths for great sound