Ampsandsound
American made with lifetime warranties. We were super impressed with the quality of these products. Their amps and headphone amps are superb.
Justin Weber makes products like they used to and prices them so that todays audiophiles looking for superb performance can actually afford them.
Zion Mono amplifiers
$13,000.00 the pair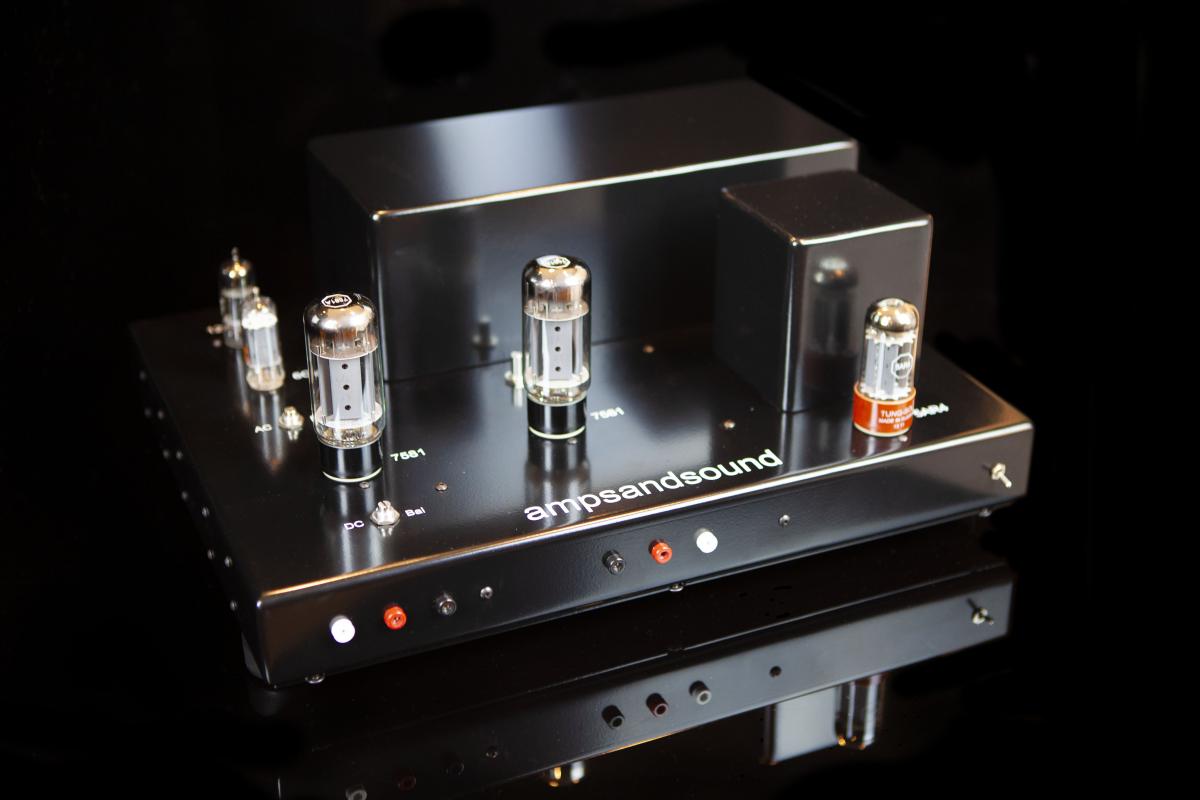 The new Zion mono amplifiers are a brand new take on the legenadary HK Citation 5. Using new components and far better parts in a mono application versus the stereo design of the original. The Zions are transformer balanced using 7581 tubes (6L6GC). They are fully tube rectified
with a very powerful 32 watts with a frequency response of 2.5Hz-115KHz -3dB.
There are no solid state parts used in these amps and they are built the way the originals were done, all by hand. Even the transformers are 200% larger than the originals.
They are very closely based on the Harmon Kardon Citation V.
The Zion's are monoblock versions of the Citation V with tube rectification.
The amps are wired with turret board and point to point, just like the originals.
Chassis work is the area that consumed development. We wanted the most rigid, robust chassis we could produce. As a result, the whole chassis is 12 gauge cold rolled steel. The amps include two mid braces. These not only allow for mounting of components but mechanically tie the top to the bottom plate. The chassis is rigid enough to be stood on without bending or deflection. The transformer's covers are of the same material and have a rib-plate to increase rigidity and allow for ease of mounting. All metalwork is powder-coated. Chassis and covers excluding parts are approx 25lbs per amp.
Transformers are one of the most special aspects of the amps.
We include input transformers for XLR to RCA conversion.
All transformers are 200% over spec'd. Filaments are spec'd at 8amps, and output transformers are rated for 60 watts.
The bench report is fantastic, 32 watts RMS
Ultra-wide bandwidth; 4hz to 115khz @ 1 watt
                            10hz to 110hz @ 10 watts
These amps are built in the same manner the original HK Citations were manufactured. They are over spec'd in every manner and intended to last a lifetime. Just like the originals, they are quiet, true to source, and have incredible frequency extension. They feel much more powerful than their output in large measure to their low-frequency extension. The sonic signature is true to source with mid-range warmth. They convey all detail present to the source input.
The Zion's are a 17 x 13 chassis and ship in 2 large Pelican style cases.
Mogwei Special Edition
Headphone and power amplifier
$3200.00
The Mogwai SE offers more than an entry point for tube amps, but a hybrid product, meant for both headphone and loudspeaker use. It ises Auricap coupling caps and is transformer input coupled for better sonics. It has adjustable output impedance of 8, 32 or 300 ohms depening on what you are running. Run your high quality headphones of hi efficiency speakers off the Mogwai and you will light up with a smile.

The Mogwei circuit offers the ability to roll a wide variety of tubes inexpensively and bring increased power to headphones without any sacrifice of design choices that conflict with our values.

The Mogwai combines the features of a full-sized two-channel power amplifier and headphone amplifier in a chassis that is suitable for a desktop use.
The Mogwai utilizes single-ended Class A operation with zero feedback to provide the essence of the Classic Wonder sound; strictly old school SET sound, without having to spend hundreds if not thousands of dollars on tubes.
The performance of the Mogwai is made possible with custom wound ultra-high quality output transformers from Transcendar, which provide excellent frequency extension and a flat response.
The Mogwai does not use a voltage divider network, but depends on transformers instead. They chose a 32 ohm tap for headphones to offer a dedicated selection for the widest range of headphones, and an 8-ohm loudspeaker tap to connect the Mogwai to moderately efficient loudspeakers.
Volume control is handled by the ALPS volume pot to allow attenuation and simplify the signal path.
Zero feedback
on the outputs negates the need for a pre-amplifier; an iPhone can drive the Mogwai without issue.
Tube Selection:
Input tube: 6SL7 or equivalent
Output tubes: 6L6GC, EL34s, KT66, KT77, KT88, 6550s and KT90s
A personal favorite is the Tungsol 6L6GC STR. Warm, strong and tight bass.
Cathode Bias/automatic bias allows for easy tube changes without adjustment.
Compatible with 32ohm-300ohm headphones using the "32ohm" 1/4″ jack.
Recommended Headphones:
Headphones driven successfully or tested with the amp include, MrSpeakers Ethers, MrSpeakers Ether Cs, Audeze LCD-2.2F, Audeze LCD-XC, AKG240, AKG701, Sony MDRV6, Sennheiser HD650, Sennheiser HD800, Beyerdynamic T1-32ohm, HIFIMAN HE400i, HIFIMAN HE-400S, HIFIMAN HE-400
The Mogwai is handmade with pride in Southern California with US-sourced parts, including their  precision transformers.
Specifications:

Input impedance is 10K ohm with alps pot
Input Sensitivity 2.6V for full power out with input transformers

Power as measured with El34 power tubes and 5U4 rectifier
8 ohm power: 2.8Watts RMS @ 1khz
Noise on 32ohm tapp @ 440uV RMS

32 ohm power: 3.6Watts RMS @ 1khz
Noise on 32ohm tapp @ 650uV RMS

300 ohm power: 4.2atts RMS @ 1khz
Noise on 300ohm tapp @ 1mV RMS

Power as measured with KT88 power tubes and 5AR4 rectifier
8 ohm power: 8.2Watts RMS @ 1khz
Noise on 8ohm tapp @ 440uV RMS
32 ohm power: 4.6Watts RMS @ 1khz
Noise on 32ohm tapp @ 720uV RMS

300 ohm power: 5.2Watts RMS @ 1khz
Noise on 300ohm tapp @ 1.3mV RMS

Lifetime warranty to the original purchaser with 3 year transferability
More photos and info is at: https://www.ampsandsound.com/products/mogwai-special-edition
Kenzie tube headphone amp
$1900.00