European Audio Team
Explore
European Audio Team
European Audio Team makes high quality turntables with high technology at very high value prices.
C-Major
$2495.00 with $524.000 Ortofon Quinet Blue moving coil cartridge 
$2250.00 with no cartridge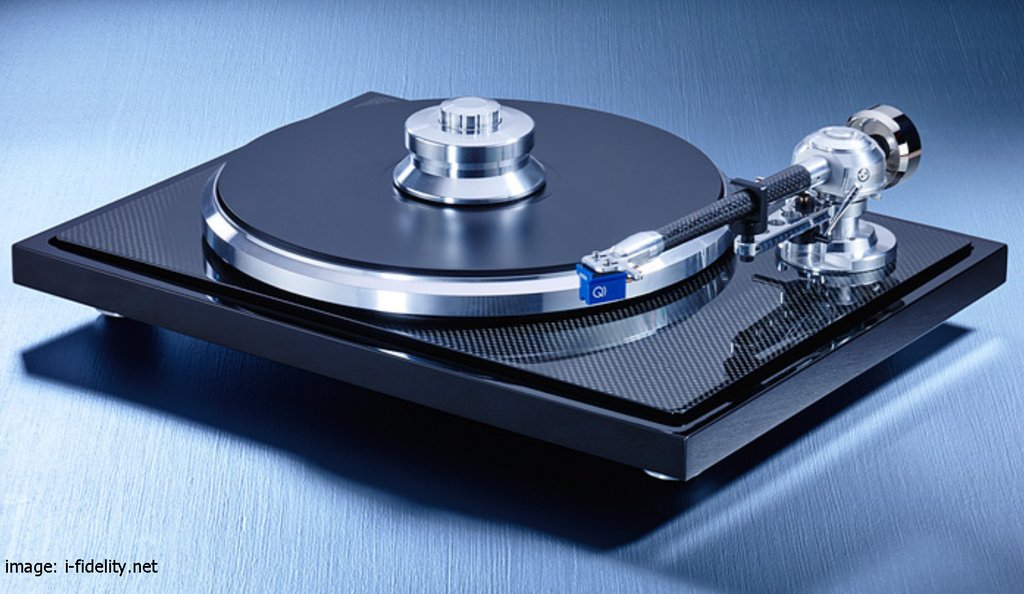 The C-Major is an amazing value with the $1795.00 Carbon C-Note tonearm, $524.00 ortofon moving coil cartridge, included dust cover and record clamp. 
Soundstage said:
"Low in profile, and all gloss black and brushed silver, the C-Major fairly screams sophistication, and while it's EAT's least expensive turntable, it's still obviously a luxury product. But the C-Major is far from an entry-level 'table. The whole shebang just oozed sophistication. There's much to be said for a truly compact turntable -- one that echoes the simplicity, elegance, and user-friendliness of the Denons and Duals of yore. Combine such elegance with high-tech materials and exemplary finishing -- as EAT has in the C-Major -- and you've got a winner. 
Listening to the Pro-Ject is like working for an insurance company. Listening to the C-Major was akin to taking an exciting holiday, the aural equivalent of climbing to Machu Picchu. And who doesn't want to climb up to Machu Picchu!"



" It looks stunning in an understated, techy kind of way, and is easy to set up. Best of all it sounds fantastic. You rarely get all of this at just over two grand. I look forward to investigating more of what this company's turntable range has to offer. Highly recommended."Jeff Dorgay  October 31, 2016

Bob Archer of CE Pro said:

            "I was really impressed with the C-Major. It's well built, easy to put together, and it sounds fantastic."
 
            "I thought the C Major demonstrated the essence of the "vinyl sound."
 
            "I was continually blown away. The C-Major's overall smoothness, rich dynamics and detail simply crushed my Thorens. It was the first time that I've had a turntable in my home that wasn't dramatically more expensive than the value of my Thorens but against which I felt my setup wasn't competitive"
 
            "The C-Major is an excellent way to put discerning music fans into a vinyl solution without the audiophile pricing normally associated with some turntables."
 
Note that this is the THIRD amazing review of this awesome turntable! 
 
Also, the C-Sharp has been named a 2017 Reviewers Choice at The Absolute Sound .
 
Nominal speed: 33/45 rpm, manual speed change

Speed Variance: 33rpm: ± < 0.09%, 45rpm: ± < 0.10%

Wow and flutter:33rpm: ± < 0.05%, 45rpm: ± < 0.05%

Signal to noise: S/N Ratio ( mechanical noise): – 40 dB, Signal to noise (electrical noise): -68 dB

Downforce range: 0 – 30 mN ; 0 - 3.0 grams

Supplied counterweight system: Counterweight 110 g without additional insert → for cartridges 5 – 9 g; Counterweight with additional insert 148 g →for cartridges 9 – 17g

Effective tonearm mass: 14.5 g

Effective tonearm length: 9"

Overhang: 18mm

Power consumption: 5 W max / 0.5W standby

Voltage: Universal switch mode power supply:

15 V DC/1.6 A, 90-264 V AC, 47 - 63 Hz

Dimensions: (W × H × D):

18.1" × 13.9" × 4.9" (without dustcover)

18.1" × 13.9" × 5.6" (closed dustcover)

18.1" × 15" × 17.1" (opened dustcover)

Weight: (Turntable) 19.8 lbs.

Weight: (Boxed) 26.5 lbs.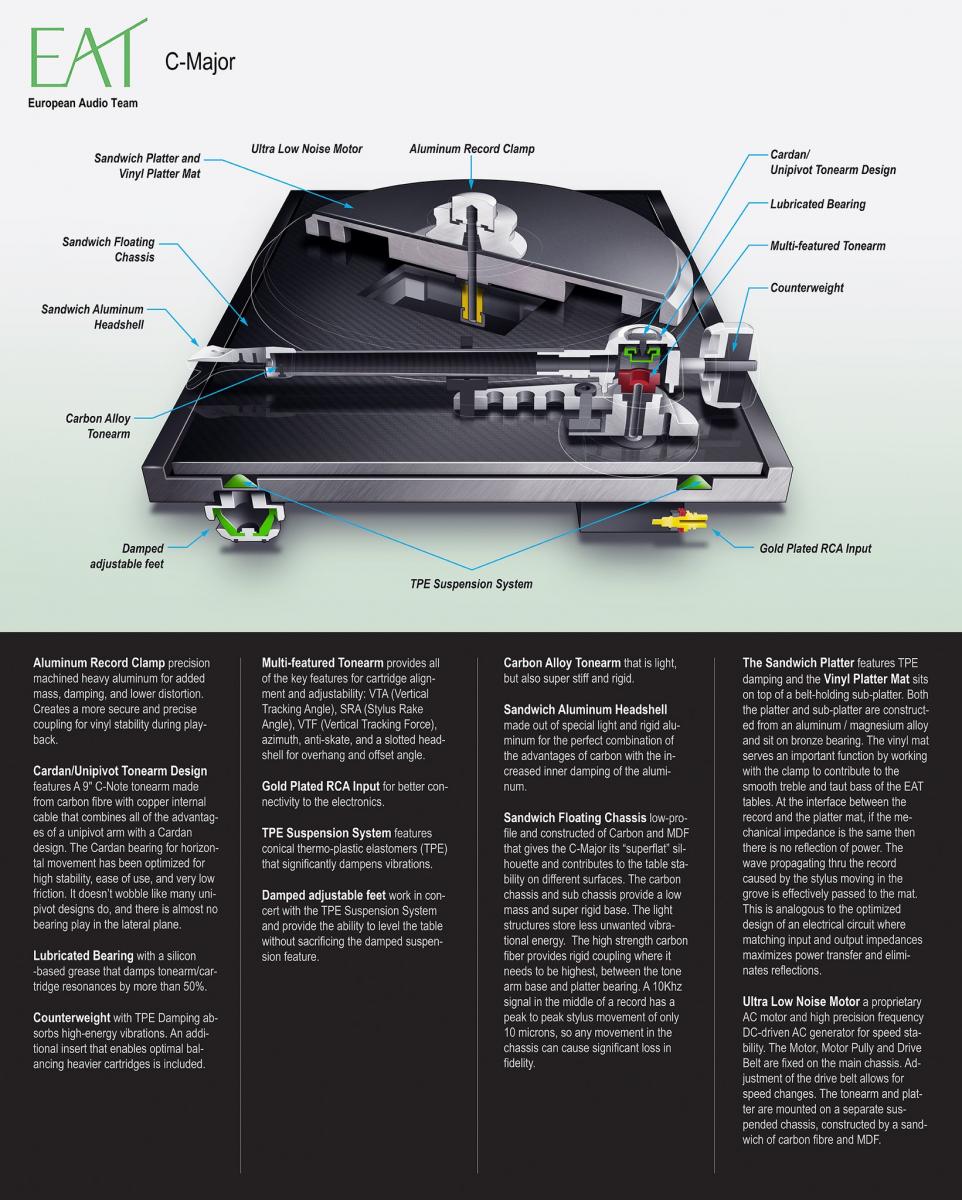 C-Sharp


3495.00 with 10" C-Note carbon fiber tonearm & $1000.00 Ortofon Quintet Black Moving coil cartridge




$2995.00 with no cartridge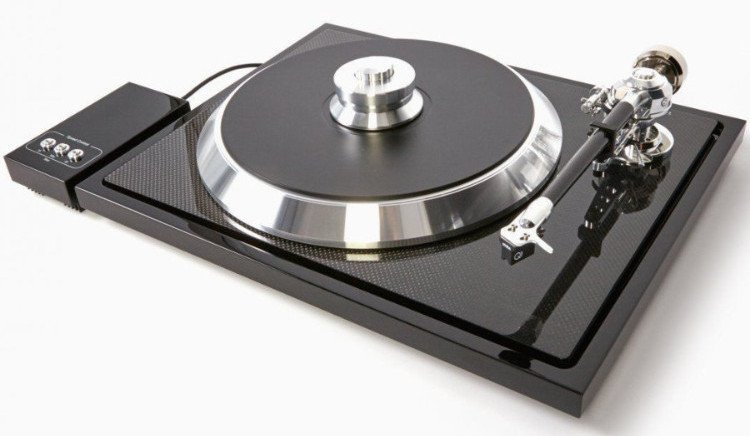 The Absolute Sound said:
"The combination of the C-Sharp and Quintet Black produced so appealing sound that had rhythmic drive and made nearly everything I spun fun to listen to"

The Hifi-World review summed with:
"The C-Sharp displays incredible value for money with its low noise output and controlled sonics that are both well-focused and mature in nature with an incisive and detailed presentation."
Low profile carbon fiber base
$1995.00 C-Note 10 inch Carbon fiber tonearm
External speed control network
30 pounds
Optional dust cover
Nominal speed: 33/45 rpm, driven by microprocessor, separate control panel, lighted control buttons

Signal to noise: S/N Ratio ( mechanical noise): – 40 dB, Signal to noise (electrical noise): -70 dB

Downforce range: 0 – 30 mN

Supplied counterweights: without additional insert → for cartridge 5 – 9g (125g), with additional insert → for cartridge 8,5 – 13g (142g)

Effective tonearm mass: 0.58 oz. (16.5 g)

Effective tonearm length: 10"

Overhang: .6"

Power consumption: 8.5 W max / 0.5 W standby

Voltage: Universal switch mode power supply 15 V DC / 1.6 A, 90-264 V AC, 47 – 63Hz

Dimensions: 19.7" wide × 15.7" deep × 4.5" high without connectors, 19.7" wide × 17.12" deep × 4.5" high with connectors in the rear panel

Weight (without box): 29.7 lbs. + 1.1 lbs. separate control panel
E-Flat


$4995 with 10" E Flat tonearm & $1000.00 Ortofon Quintet black moving coil cartridge




$4495.00 with no cartridge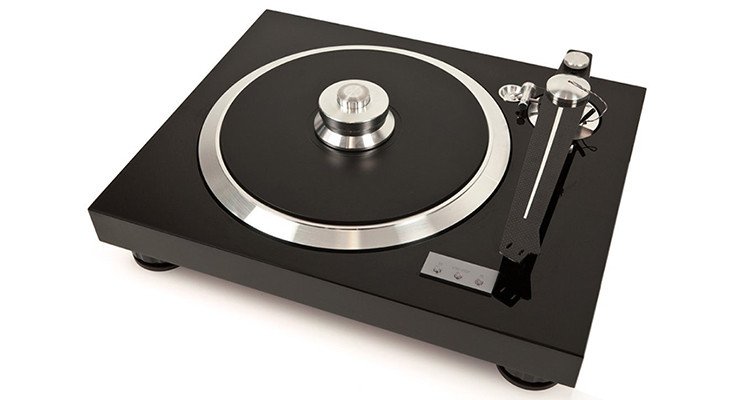 Uni-pivot flat carbon fiber tonearm
Dual motors
Slim high mass base
2 piece 15 pound platter
90 pounds
Forte-S
$15495.00 Makassar with 12" E-Go tonearm / $14,995.00 in black
$8495.00 Makassar with 12" C-Note tonearm / $7995.00 in black
$6495.00 Makassar with no tonearm /

$5995.00 in black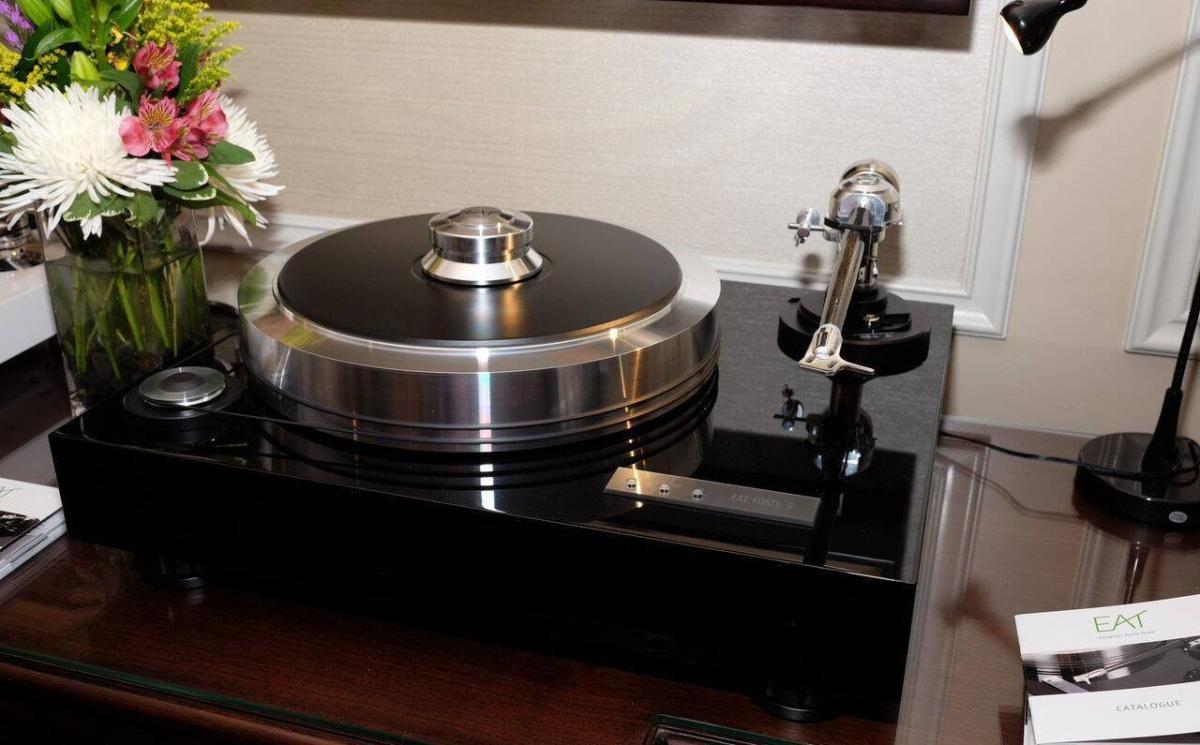 Dual  Motor design
Mass loaded single piece base
2-piece 35 pound platter
97 pounds

Forte
$18495.00 Makassar with E-Go 12" tonearm / $17995.00 in black
$11495.00 Makassar with C-Note 12" tonearm / $10,995.00 in black
$9495.0 Makassar with no arm / $8995.00 in black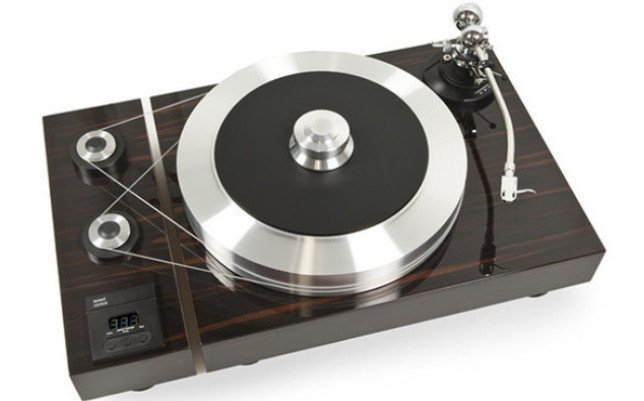 Dual  Motor design
Mass loaded single piece base
2-piece 45 pound platter
145 pounds